Trade Market
You can already buy from us starting at € 200 only!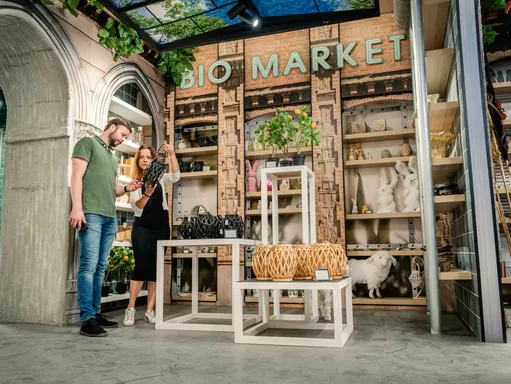 A unique shopping experience
We combine all advantages of a showroom and a Cash & Carry in our Trade Market. A place of 1500m2 with various themed areas, focused at different markets. So it might be that you buy your toys in the Bio Market, and your Christmas decoration in the Tech Market. How special is that?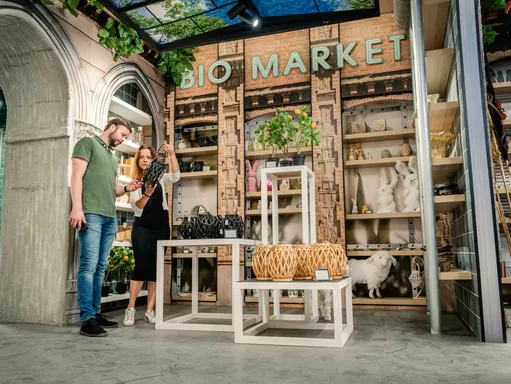 Purchase using the app
In our Trade Market you will not be bothered by an overfilled shopping cart anymore, because all you need is our Meekes app. Scan the barcodes of the products with the app, enter the amounts required and add them to your digital shopping cart.

Your order is ready? Complete your order and pay directly at the POS terminal. Then it is time for a relaxing cup of coffee, while our team brings your order to your car or van. Should you prefer home delivery, no problem! Within 2 working days your order will be shipped.
Opening hours
Monday - 09:00 a.m. to 08:00 p.m.
Tuesday to Friday - 09:00 a.m. to 05:00 p.m.
Saturday - 09:00 a.m. to 01:00 p.m.
During the Trade Weekend we have extra (long) opening hours
Saturday - 09:00 a.m. to 04:00 p.m.
Sunday - 11:00 a.m. to 05:00 p.m.
Advantages of Meekes
Always up-to-date product information through digital price tags
Minimum per order: €200
Free delivery for European countries with minimum order value.
Click here to view the list
Top brands such as PTMD, Fink and Riverdale
Over 3.500 products
1.500m2 Trade Market
By appointment
For the purchase of larger quantities, we can often make a special offer. Our sales team will be happy to assist you in creating your order. Feel free to make an appointment and discover the possibilities.
Make an appointment
Trade Weekend
You do not have the opportunity to do your shopping on weekdays? During Trade Weekend, we have extended opening hours and offer you even more products! Why? Other companies will also be present on Sunday with their range, ready to offer their products. Below you will find all upcoming Trade Weekends.
29 September to 1 October
19 October to 22 October
24 November to 26 November
8 December to 10 December